Combine Financio with Tembo Pay
Avoid mistakes in posting payroll data to your Financio account with our Financio/Tembo Pay integration. Your payroll data is now auto-synced.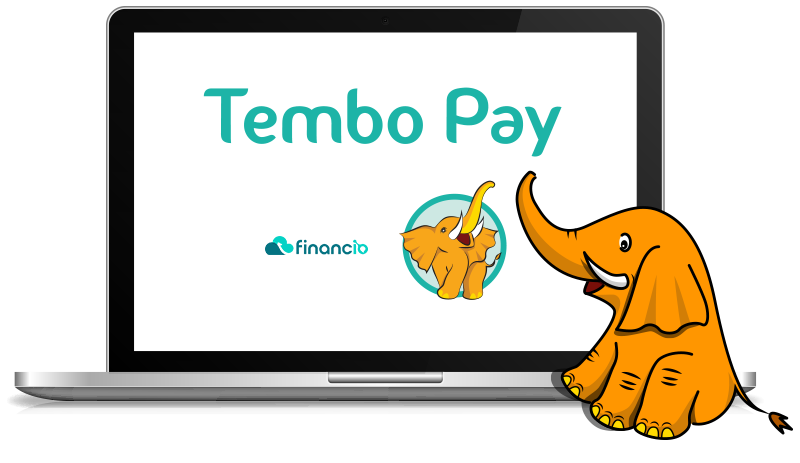 Sync up Payroll Details
Once you have run your monthly payroll in Tembo Pay simply click the export to Financio button to easily push all payroll figures into Financio.
Flexible Mapping
Map your payroll items to synchronize with your Financio Accounts including net pay, contributions of employees and company, tax paid by employees and company.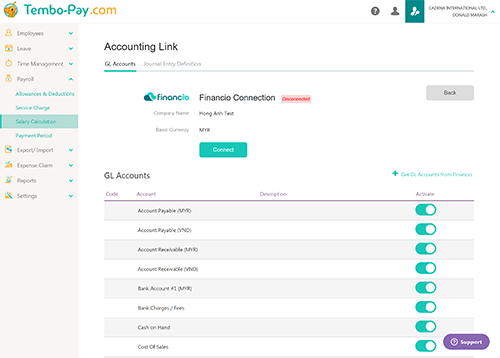 Simple Setup
Login to your Tembo Pay app
Go to Settings > Accouting Link
Connect to your Financio account
Map payroll items to Financio Accounts
Read our Help Article for more info!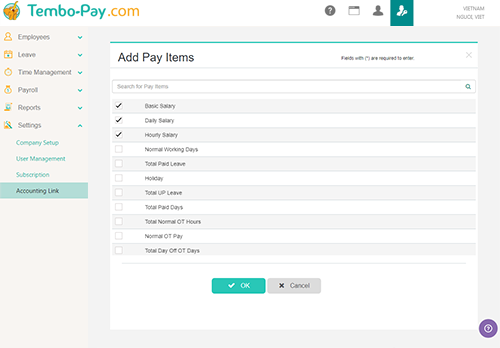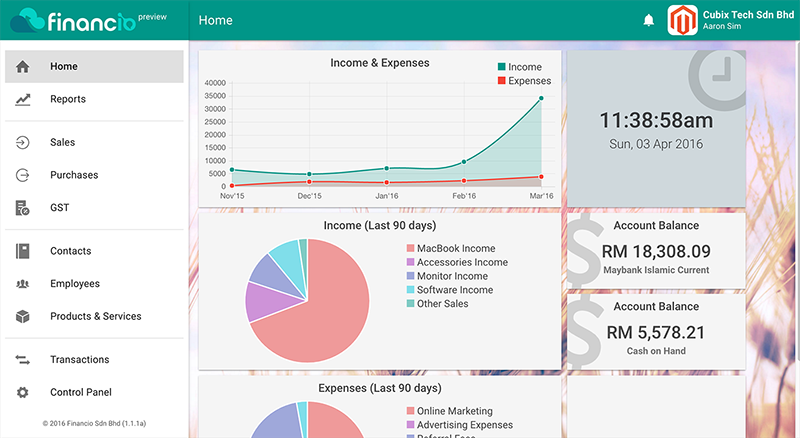 About Financio
Financio is a cloud accounting software, designed for today's smart businesses. Top features:
Accounting Automation

Just issue invoices, record payments and expenses, Financio will do the tedious ones such as generating accounting entries and tax records for you.

Multi-Currencies, Multi-Lingual:

Transact seamlessly with local and international businesses that are connected to the InvoiceNow network. Choose the relevant currencies and your preferred language from Chinese, Malay, or English.

Mobile App

Manage your business accounts anytime, anywhere via Financio CONNECT mobile app. Record expenses, issue invoices, chase for payments and monitor business performance.

Collaborate at Ease

With the highly customisable permission settings (read-only, create, or approval), you can grant precise permission to unlimited users. Invite your partners, accountants, bookkeepers, sales personnel and collaborate in real-time to reduce your workload.
Recurring Invoice

If your business needs to send the same amount of invoice repetitively, why not just automate it! Set your recurring invoices to your preferred recurrence cycle. Be it weekly, monthly, or yearly.

Integrated Apps

Power up your business and eliminate tedious, manual data entries when you connect with Financio integrated apps – banks, payroll, e-commerce platform and payment gateway.

Charts & Reports

Live charts and reports at your fingertips, whenever you need it—no more waiting for month-end. View your profit & loss, balance sheet, and many other reports with just a few clicks.

Live Backup

All data stored on Financio comes with one copy of the live backup and a second copy of the daily backup. Never worry about losing your data again.